Shopping Basket
Your Basket is Empty
There was an error with PayPal
Click here to try again
Thank you for your business!
You should receive an order confirmation from Paypal shortly.
Exit Shopping Basket
Rocking 3W Instruction and Sales LLC

Put a Foundation on your Horse
Despite the crazy spring weather we've been having, soon we will all find the need to load our horses and go somewhere ....... even if its only a trip to the vet!  When was the last time you had your horse in the trailer?  If it was last fall or summer, your pony may not be so keen on getting in the "rolling cave".
This is where I see a lot of trailer loading problems start and go down hill from there.  The horse is reluctant to load so what happens?  The person on the end of the lead rope gets frustrated and starts to "power-up" with the horse.  This can be either mental or physical (usually both!).  What is critical about this is the increase in human activity is physical and is happening right at the back of the trailer ....... the worst place to start becoming more assertive with the horse!
There are a fair number of factors that come into play with loading, hauling and unloading your horse.  Let's look at one of the major ones.
Probably the biggest one is TIME.  Time means nothing to a horse and everything to the human.  Your horse could care less that he has a vet appointment and you are under time constraints to get there ....... a conflict in the making!  First you have to catch the horse, then get him to the trailer (after you have already spent the time to hook-up, check out, and park somewhere to load) then get him in the trailer and ready to roll.  So you get to the back of the trailer and the horse balks, pulls back or turns away.  Bet the first thing you do is look at your watch!  How do you minimize your frustration?  Well, the old adage of "if you're going to a gun fight, load your guns before you go" applies.  Do all your hook-up, trailer checks, junk loading and parking the night before.  I've even gone so far, knowing the horse I'm hauling is hard to catch, to pen him up in a catch pen or small corral the night before.  Give yourself plenty of time to load and get to where you're going.  I've spent my share of time waiting at my destination because I got there early, but spend that time doing a little grooming and rubbing on the horse .... let him know getting there was worth the trip!
Check back latter for more thoughts on the great trailer loading problems!
Wow, who ran off with the last week of April and the first week of May?  Its been a busy time here at the ranch, two foals on the ground now, lessons going on, a flying trip to Portland to bring home a new mare and on-going facility improvements.  Now that Spring (summer? its been in the 80's!) is in full force, come on out and check out how to improve your riding and your horse!
Just returned from another great Patrick Wyse Clinic in Lewiston, ID.  As usual, I really look forward to this clinic.  Its a great chance to knock the winter rust off my riding and to get my demo/lesson horses back into form!  Now that the weather is starting to improve, why not do the same for you and your horse ... give us a call and set up a time to come tune up your riding skills!
Well, the weathers getting nice, the vet has been out for vaccinations and heath checks, the paddocks have been cleaned, and the fences checked.  Time to put winter behind us and get out for a ride!
If you're like most folks, your horse has been up on blocks all winter and got fat, lazy and out of shape ... yes the horse, but possibly the rider too!  Probably not such a hot idea to saddle up and head out on the trail just yet.  When was the last time your horse had some "basic" training?  You know, go to the round pen and do a little of horse training 101.  It may surprise you how frisky you ride is!
Here a picture of Schwebbie, my really well broke competitive trail horse who is also used as a demo horse and is also broke to drive when I took him to the round pen and asked him to lope!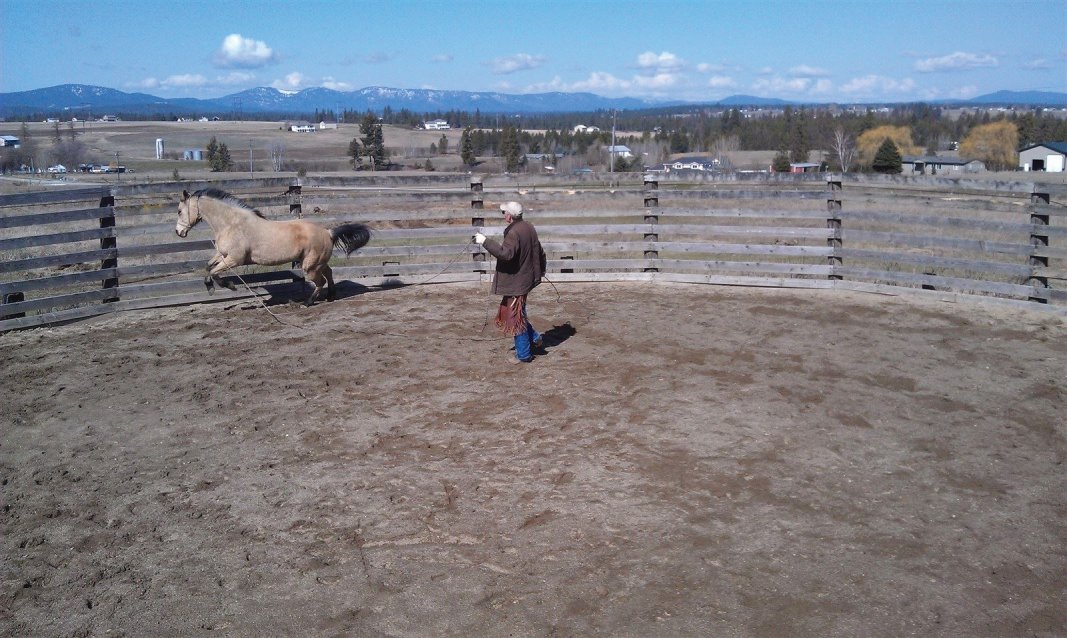 Not exactly the nice quiet horse I put out to pasture last fall!
It didn't take long for him to settle, but I was sure glad I didn't just saddle him up and get on!  Next step was to "sack him out".  This was to make sure he was really thinking and ready to pay attention.  Will your horse tolerate this?  Don't just go try it without some training of your own and proper supervision!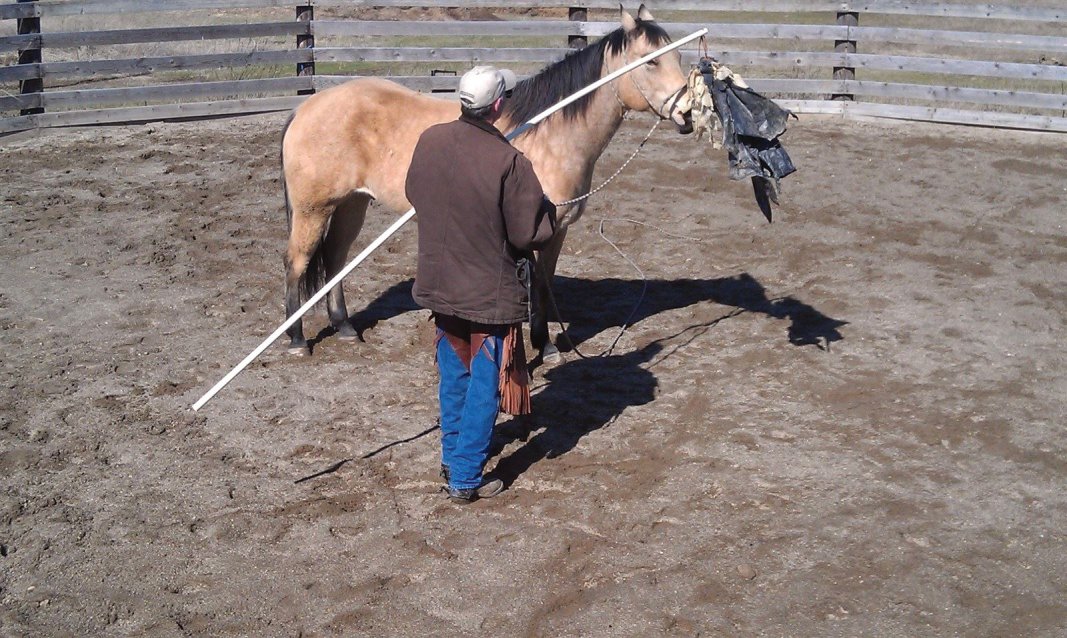 Now that Schwebbie is sacked out, he got saddled up and loped around a little on a long line.  The results?  Well you be the judge .......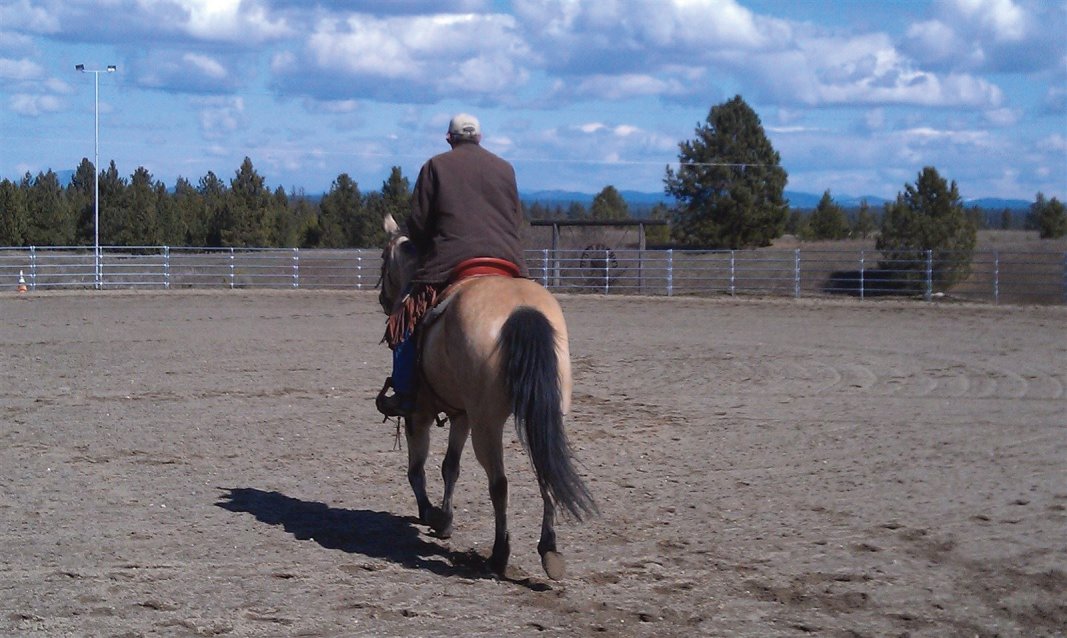 THE END!
So, another horse training facility.  What makes this one different from all the rest? 
Its safe to say, we've all seen, heard of, or experienced horses that went to the trainer's for full up training or even just a tune  up and you watch the trainer do all sorts of great things when the training is finished.  Just what you as a horse owner wanted.  Then you get the horse home and within a week, they are right back to being the bonehead you wanted fixed!
Why is that you ask?  Well simply stated, we as horse owners are all trainers.  Our daily handling/riding habits teach the horse many things, some good, some bad.  This takes us back to the statement on our website that two things are consistent in the horse world;  Horses are easily confused and Humans are easily frustrated.
We started this training facility to address that problem.  We focus on the rider/owner so they understand the physical limitations of the horse and the impact of the human on the horse.  We keep things simple to make it easy on both the horse and human.  We use a building block approach that in non-discipline specific and best of all doesn't teach anything that the horse has to "unlearn" later.
Contact us and set up a time for a demo!
Cheers,
Larry, Manager/Instructor
 Rocking 3W Instruction and Sales LLC
/